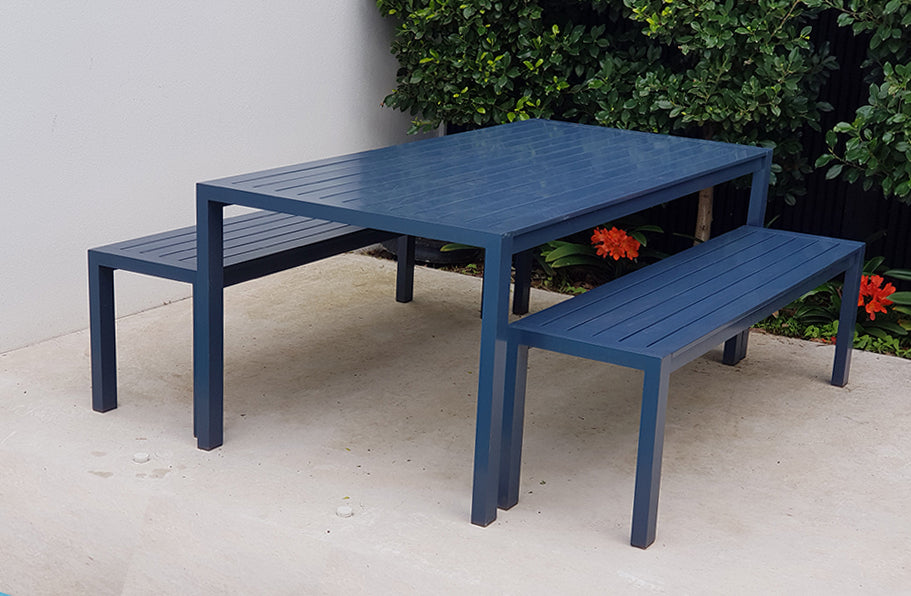 Outdoor
Aero outdoor products are designed for simplicity in design, function and comfort while looking stylish in the outdoors. All products have materials and finishes suitable for outdoor use.
Metro Table and Bench Seats 
We have the perfect outdoor metro table (2M X 900MM) and benches shown here in special blue.
Material is all aluminum which is then treated and powder coated.
Standard colours are Black and Brilliance (grey), however we can accommodate special colours for an additional $250.

Using benches rather than chairs is visually less intrusive.

Tables come in 2 standard sizes

2000 x 900   $ 1,500
1200 x 900   $ 975

Benches match table and slide under 

1750 x 400   $ 750
1000 x 400   $ 550


Mesh Outdoor Chairs
These comfortable, lightweight stackable outdoor chairs will compliment any outdoor setting.
Powder coated aluminium with outdoor UV grade mesh.
Colours: Light grey (silver) only
H: 810 mm/470 mm x W: 490 mm x D: 460 mm - $150
To order: Email sales@aerodesigns.com.au or call 0417 108 396